Posted by Noah's Marketing Team on 27th Sep 2021
New Product... THE BORDER BENCH!
The new, patented Border Bench is an easy to install, budget friendly, and quick solution to create seating options for parents, teachers and volunteers on a playground.
The Border Bench has been designed to connect to BOTH 8" Border Timbers and 12" Border Timbers and to add valuable seating around the perimeter of a playground site.
With proper wood chip or rubber mulch surfacing depth, the Border Bench's height hits the perfect standard bench height, to create a comfortable, relaxing seat for at least two adults at a playground!
Benefits of the Border Bench:
Inexpensive alternative to a bench made of coated steel, concrete, or recycled plastic

Less expensive shipping cost due to size and weight

Space-saving feature by attaching Border Bench to existing border timbers

Ability to replace broken border timbers with new panel that allows seating

Ability to hold up to two Adults on the perimeter of the playground area

No-concrete installation, allowing you to install the bench with ease with only a hammer

Clean, finished look when attached to existing border timbers

Holds up to 400lbs of weight
The Border Bench will Save You Time and Money!
If you are shopping for a new playground site, and thinking about putting borders around your new play area, and also need some seating options for adults around the playground, the border bench will save you time and money! See how below...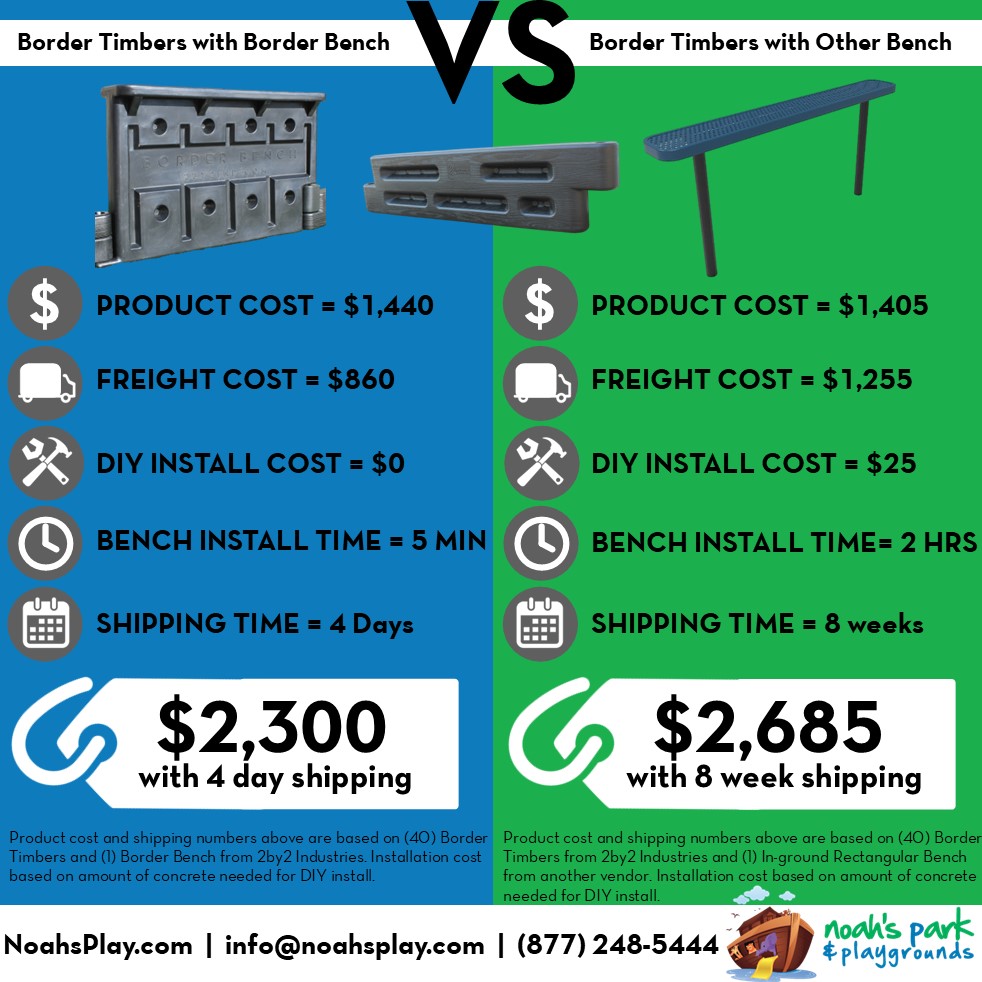 The Border Bench will save you $385 and 7.5 weeks of wait time to get the seating you need for your playground!
Installing the Border Bench is a Breeze!
Just watch how easy it is to install the Border Bench. You don't need any concrete, all you need is a sledge hammer and about 10 minutes and your done!
Border Bench Now Available for Pre-Orders!
The Border Bench is currently available for quote requests, pre-orders and PO submissions. On November 1st, the Border Bench will be shipped out to those who pre-ordered. The Border Bench will be one of our Quick Ship items started in November and will ship out in 5- 10 business days!
To order, contact us directly or go to the Border Bench product page and submit a quote request and one of our sales reps will send you a quote and more information in 2-3 business days!